Accelerated Mobile Pages (AMP) was developed by Google and various news organizations to address the speed and usability issues of traditional responsive sites.  The technology has now evolved to support over 25 million domains including travel industry sites like Wego and Airbnb and e-commerce sites like EBay. 
You may be wondering if an AMP mobile site is a good marketing investment for your Bed and Breakfast.  After all, AMP is a faster but relatively new technology that works differently than traditional responsive.  At Innkeeper's Advantage, we recognized the risks of using something new but also saw an opportunity to improve our mobile site speed. In 2016 we built an AMP prototype as a proof of concept. The prototype proved that AMP could offer our customers much greater mobile speed and usability.  After seeing great results from our pilot implementations in January of 2017, we decided to adopt AMP as our mobile website & booking engine standard.  Now that a year has passed we know that our B&B customers who switched from a traditional responsive site to AMP have experienced a significant increase in online mobile bookings.
As with any new technology, some of the information available is misinformation.  Here are some myth-busting facts based on our first year of real-world experience building Innkeeper's Advantage AMP sites for our Bed and Breakfast customers.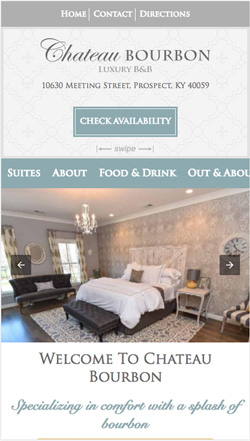 Myth #1: AMP sites are "Stripped Down" versions of your regular site.   
AMP pages utilize a slightly modified version of HTML where some slow performing elements have been eliminated and replaced with faster loading code.  That's why some developers call it "stripped down".  In fact, knowledgeable web designers can build an AMP mobile site with the same colors, graphics and branding as the desktop site.  AMP also supports easier to use and more interactive features like carousel images and swipe-able menus.
Myth #2: AMP sites do not have all the content of the desktop site.
Our AMP sites display 100% of the content from all devices in line with search engines optimization (SEO) best practices.  Updates made using the Innkeeper's Advantage Content Management Interface are automatically made across all devices instantly: desktop, tablet or smart phone.  Third-party widgets can slow down performance significantly so AMP does not support them.  Instead we link to TripAdvisor reviews on their mobile-friendly review page, but continue to use third-party widgets on the desktop view.
Myth #3: AMP sites display a separate URL from the main website.    
There are several ways that AMP pages can be retrieved.  We chose to make the URL the same on each Innkeeper's Advantage site for desktop, mobile and tablet.  There are no mobile sub-directories like "/m" or sub-domains like "amp." on our AMP sites.  Google used to occasionally display a cache domain such as "google.com/amp/domain.com" when retrieving AMP sites, but as of January 2018, Google made a change that would eliminate cached google.com addresses in their search results.
Myth #4:  Responsive websites load just as quickly as AMP.
AMP sites load in less than 1 second from search engine listing to click-through. In comparison, a Google Double Click Research Study shows that traditional responsive sites take much longer to load.  The research also shows that mobile users begin to disengage after about a 3 second delay.  AMP keeps more users on your site by loading faster.
Myth #5: Google is trying to take over everyone's content.
As with all web pages, Google caches (makes a copy) of AMP content from the original servers to their own servers. It indexes and stores AMP content for faster retrieval.  The cached version is continuously updated to match your hosted site's content. Google does not own your content and does not change it.  Individuals can choose to host AMP sites elsewhere and tell Google not to cache the site. 
For more information about Innkeeper's Advantage and AMP please call us at 724-933-3330.  We look forward to making your B&B more successful.