Running Bed and Breakfast Daily Deals Just got easier..
Innkeepers Report B&B Daily Deal Reservations Challenging
If you are running B&B daily deals with Groupon, Living Social, Buy With Me or others, you know how great it can be for marketing and cash flow.
But innkeepers have also reported that it's difficult to take daily deal reservations. Until now, guests couldn't redeem daily deals online because each deal has to be verified with the innkeeper from a list of voucher codes. When the daily deal is over, there's usually a deluge of phone calls from deal buyers trying to book reservations. It can be a lot of extra work.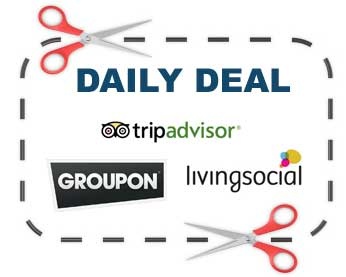 How Innkeeper's Advantage™ Helps B&B's with Daily Deals & Coupons
Book It Now reservation system from Innkeepers Advantage features a new Coupon module that can help you offer guests a better daily deal experience. Deal participants can book reliably online and the voucher tracking process is totally automated.
Groupon™ and Living Social style daily deals
TripAdvisor™ coupons
Your own customized discount deals.
With our Gift Shop, you can even offer gift certificate discounts online
Our service is affordable, reliable, secure and PCI compliant.
The Deal for Innkeepers
Sign up for a free guided tour of Innkeeper's Advantage & Book It Now to see how our online systems can make daily deal coupon sales a painless part of your B&B's marketing plan.