Website Promotion - SEO - Internet Marketing
Get Ongoing Help with Innkeeper's Edge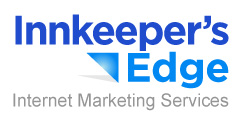 Innkeeper's Edge combines the power and control of Innkeeper's Advantage with services to help you stay current all year. Imagine having your own virtual assistant to help you with:
Two blog posts per month - you approve the topics and content.
Assistance posting coupons and specials
Establish a Google Adwords account and periodic review if required.
An annual SEO review and recommendations.
Need a GDS provider?
Innkeeper's Advantage and Book It Now are enabled for the following Marketing Channels:
Net Rate Online Travel Agencies
Travel Agent Distribution to thousands of Brick and Mortar Travel Agents
TripConnect Premium Partner
Booking.com Certified Provider
Expedia Certified Provider
Follow Us On Facebook

Visit us on
Facebook for
Special Offers.

Talk One-on-One

We are happy to hear from you.
724-933-3330